gsub mbH works on the basis of a quality management system that is certified according to DIN EN ISO 9001 : 2015.
The process and customer oriented quality management system guarantees the processing of all gsub mbH orders and services according to specified and transparent processes that comply with the high demands on a modern quality policy.
Key aspects hereby are:
the management of the resources. This particularly includes a personal policy for highly motivated and efficient employees, a sophisticated controlling and a reliable communication system with modern EDV.
the key processes of gsub mbH to fulfill the assumed responsibilities arising from the contracts with our customers such as consulting, trust property management as well as the development of new projects.
The aims, requirements, processes and responsibilities of gsub are compromised and documented in the quality management manual QMHB.
Furthermore, the individual projects and programs that gsub carries out for their customers are visualized in specific process manuals or guidelines. Each order is assigned to a determined project manager that is at the same time in charge of the quality of the respective project. Therewith a maximum in continuity and transparency is given for the customers.
The data protection is integrated into the company processes. Above all the protection of personal data is particularly important to us during the entire business process.
The continuous improvement in quality of our products and services to achieve the maximum customer satisfaction is a matter of course for us.
audit berufundfamile (work and family)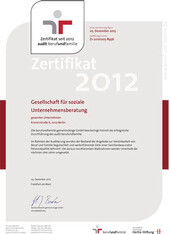 On December 5th of 2012 gsub mbH was awarded the audit certificate "berufundfamile". The certificate was awarded within a festivity in Berlin on June 26th of 2013.
The audit supports the employer to bring company aims and employees' interests in a sustainable, economic and attractive balance. The audit is subsidized by the German Federal Ministry of Family, Seniors, Women and Youth and recommended by the leading German trade associations BDA, BDI, DIHK und ZDH.
With the acquisition of the certificate, gsub mbH aims to strengthen their family-friendly image. Doing so gsub mbH puts a strong emphasis on the balance between the interests of the company and their employees.
In order to maintain this quality seal of a family-conscious personnel policy, companies define in eight fields of action their aims and provide these with precise measures, which are: working time, work organization, place of work, communication, personnel development, management, performance related compensations, monetary benefits and services for families. The yearly report documents the realization of these aims and measures.
For further information please visit www.beruf-und-familie.de.
To get an insight of what kind of measures gsub mbH has been offering in reconciliation of work and family please visit Career.