Employee-oriented company
Qualified, committed and motivated employees are the groundwork of a successful corporate performance. A targeted personnel promotion and development additionally supported through further and continuing training strengthens a self-reliant and individually responsible way of working carried out by all employees in the company.
Personnel development means:
Strengthening motivation and customer focus
Setting goals and controlling results
Working team-oriented, integrating and appreciating employees
Responding to demographic changes
Realizing appropriate trainings
Respecting safety and health protection
Creating a family-friendly and fair work-family-compatibility for the employees
Corporate culture based on esteem

The Managing Director Dr. Aster signed in October 2013 for gsub mbH the Diversity Charter. Its realization within gsub mbH aims to create a working field that is free of prejudices. All employees shall experience esteem – regardless of the age, gender, nationality, ethnic origin, religion or ideology, disabilities, sexual orientation and identity.
We defined the maxim of cooperation in partnership and esteem as a principle in our corporate philosophy and therewith as a part of our corporate culture.
The Diversity Charter is supported by the German Federal State – the Minister of State Prof. Dr. Maria Böhmer also signed the agreement representatively for that. Federal Chancellor Angela Merkel assumed the patronage.
Within the scope of this charter we will:
Generate a corporate culture that is characterized by a mutual respect and esteem towards every individual. We create the conditions in order to enable superiors and employees to recognize, share and live these values. Executives or superiors hereby have a particular responsibility.
Checking and ensuring our personnel processes so that these meet the manifold abilities and talents of all employees as well as our performance demand.
To recognize social variety inside and outside our company and to appreciate the potentials resulting thereof and consequently profitably applying these for the company.
To internally and externally dialog the implementation of the Charter.
Yearly informing the public about our activities and advances on the promotion of the variety and esteem.
To inform our employees about the diversity and to integrate them in the implementation of the Charter.
On the second German Diversity Day in 2014, gsub contributed to it with an online newsletter about the topics gender equality and diversity.
For further information about the Diversity Charter please visit www.charta-der-vielfalt.de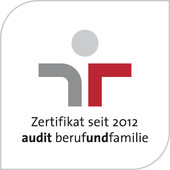 Only motivated employees get involved with all their abilities developing full creativity. In order to sustain and strengthen the motivation and commitment of our employees on a long term, we support them balancing their career and private and family life.
We characterize us being a family-friendly corporate management creating a working atmosphere where our employees can easily combine work and private life.
This is why we create our working times, work processes, management style, communication and personnel development family-friendly. gsub mbH has identified the topic compatibility of work and family for a long time. With the audit "berufundfamilie" (work and family) gsub mbH aims to further expand this important aspect professionalizing a family conscious personnel management. The audit creates transparency about existing offers regarding the compatibility of work and family. The family consciousness is established as an integral part of the personnel policy. With this philosophy gsub mbH aims to be an attractive employer also for new potential employees.
Aims
Creation of more time sovereignty for the employees
Winning new potential employees
Strengthening employee loyalty and identification
Fast integration upon care and parental allowance
Strengthening the family-friendly image inside and outside
Reduction of employees' sickness
Decreasing fluctuation
Increasing productivity
Existing measures
(Selection)
Financial contributions to child's birth and marriages
Opportunities for family-related part-time jobs
Individual solutions to care for relatives or/ and children due to home-office options
Children's area in the staff break room, diaper changing table
Trainings
For further information please visit www.beruf-und-familie.de.
Corporate Health Management
The condition for the creativity of our employees is their health. The communication of a healthy life style is a long life task that plays a significant role in different phases and areas of life.
gsub mbH is aware of its responsibility for their employees and therefor supports the development of health promoting resources such as a nutritional fruit day every fortnight. The continuous cooperation with a mobile massage service creates the possibility to take massage appointments at work. This service supports the regular prophylaxis enhancing at the same time the motivation of the employees. Business Qigong, Zumba or climbing provides health prophylaxis. gsub mbH as an employee-oriented company that takes account of the demographic development will further professionalize the corporate health management providing and anchoring special offers in health prevention and healthy nutrition.
Existing measures
(Selection)
Health prevention reinforced with a health catalog
massage service,
fruit day,
business Qigong, Zumba or climbing
company integration management
trainings
realization of a yearly employee day
water dispenser